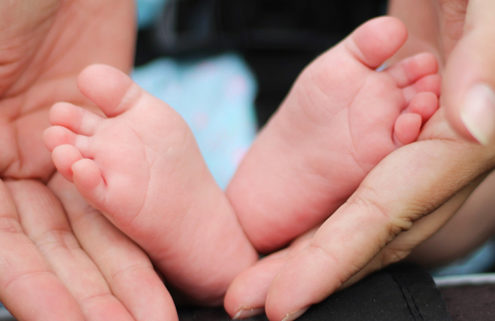 Maria thought she was healed. It was a long time ago after all, and a lot had happened since then. She'd gotten married, gotten saved, gotten active in her local church. She never acted on them, but she couldn't shake thoughts of suicide. The frequent bouts with depression were almost overwhelming. Worst of all was how she thought of herself. She pretended well and had everybody fooled, but she couldn't shake the self-judgements. Where was all this negativity coming from? Could she transform her story and rescue her real identity?
Working with women at our local crisis pregnancy center, I see many women like Maria who don't connect the dots of the symptoms in their life with a past abortion. I have heard well-meaning Christians say, "I know I am forgiven" and "it's covered in the blood." I totally agree with that, but I have to say that forgiveness and healing aren't the same thing. Abortion leaves a deep wound. Bad fruit often shows up down the road, such as addiction, depression, promiscuity…to name a few. Our identity – our femininity and mothering – are severely damaged.
Many churches celebrated Sanctity of Life Sunday during the month of January. As we stand for life, we must also recognize that 1 in 4 of us (some studies say 1 in 3) have been wounded by a previous abortion. The good news is there's healing and transformation in Jesus.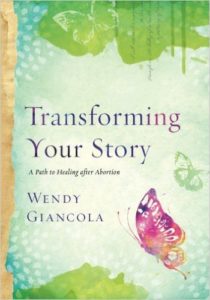 Wendy Giancola, director of post abortion ministries at Capitol Hill Pregnancy Center in Washington, D.C., has written a wonderful book called Transforming Your Story: A Path to Healing after Abortion. This book grew out of her own personal healing journey as well as those she has met along the way. She believes that "optimal healing includes three important aspects: community, spiritual tools, and prayer." Wendy recommends receiving healing in community. This book is very helpful for a healing group to use together. The chapters of the book are constructed around a Bible story which help the participant view their story through the lens of scripture. She has a very sweet way of using experience and activities that engage the heart, mind and spirit to bring spiritual truths to life. With a very gentle and loving approach, Wendy introduces scripture by saying, "Consider…" and "Let's talk" to invite the participate into engaging their heart.
Her book also has a companion facilitator's guide for group leaders.
Having worked with many women through abortion recovery, I particularly appreciate this book because of the way she includes scripture in the study. In the crisis pregnancy center where I volunteer, I encounter many unchurched and de-churched young women who are not familiar with the Bible. This study is not intimidating to someone who might not be able to navigate a Bible. She tells the stories of real women and their pain and includes much of the scripture right in the book. It's a culture current way of using God's Word which is as relevant today as it was thousands of years ago.
For those seeking help, there are pregnancy centers you can find locally who offer abortion recovery ministry. Other resources include CareNet Pregnancy Centers, Heartbeat International, Ramah International, to name a few. If you or someone you know has experienced the pain of an abortion, but not been through a healing group, you're probably living wounded and may not even realize the depth of freedom you're missing. Again there's a difference between being forgiven and being healed. I strongly encourage you to seek out a post-abortion recovery study at your local crisis pregnancy center. Get your identity back. It will make all the difference in the world.
You can buy Wendy's book on Amazon here.
http://identityinwholeness.com/wp-content/uploads/2017/02/TransformingYourStory-495x400.jpg
400
495
Janet Wernli
http://identityinwholeness.com/wp-content/uploads/2016/03/new_logo_menu.png
Janet Wernli
2017-02-13 03:00:37
2017-05-30 20:20:38
Transforming Your Story