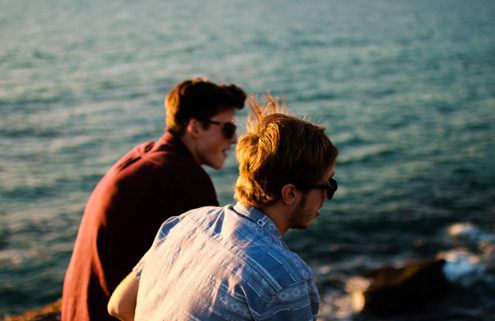 They could not have been more different. When Jack said "black," John said "white." When John said "black," Jack said "white." One drove a smart car, the other a hummer. One was rightly concerned about social justice, the other rightly concerned about government over-reach and losing freedoms. One loved the Washington Redskins, the other the Dallas Cowboys. What was God thinking when he brought these two men to the same church, working on the same committees? They both thought the other was really jacked up. They both passionately knew they were right in their convictions. They were both willing to die on their swords over being right. They could not have been more the same.
They were both offended. Offense is one of the greatest barriers to friendship in the church. Actually, offense is one of the greatest barriers to godliness in any sphere of life. For example, there is a huge Spirit of Offense operating in both political parties in America right now, playing us for fools against each other. But that's another story. This story is about two men in the same church who can barely stand each other, offended, not over anything righteous like God would be, but over their own petty preferences, that only they valued so highly.
Whenever they got excited about something at church, darned if the other would show up too, and work on that same project. The other person sucked all the joy out of it for them, because they both chose to give the other that power over them. In fact, they ended up bumping into each other so often that they began to wonder what in heaven was going on. In fact, something in heaven was going on. Heaven had a plan.
God knew that one of these men was molested as a child by a family member they were taught they must respect. God knew the other had parents who demanded silent perfection. Neither had a voice growing up, and the pain of being treated as an object had traumatized them both. To one, something horribly bad had happened, and it shut down his heart. To the other, the daily lack of love, the daily lack of the necessary good thing, had slowly but surely sucked the life out of his heart. God knew these two stony hearts desperately needed each other.
Both marriages were about to collapse. Their wives were miserable, and neither of their wives respected them. One man was a servant with no boundaries, and his wife longed for him to stand up to her and lead. The other was oppressively over-bearing and his wife longed to be heard and have a voice herself. These men had much to teach each other.
In God's economy, they each had something the other desperately needed. In such a friendship, they could speak hard truths to each other, within the safety of fraternal, brotherly love. God wanted to use those hard truths to work paradigm shifts in both men, bringing them into a new, exciting, and adventurous life they never dreamed possible.
There was only one thing standing in the way. Fear, manifesting as Pride, fed by Offense.
But God kept stacking the deck. John couldn't worship without having Jack's face pop into his thoughts. As God planned, it was beginning to drive John crazy. Jack couldn't go to sleep without having some dream about John giving him something he desperately needed—the one person Jack didn't want to be indebted to. God was on the move.
One day John bit the bullet and asked Jack for coffee after church. Much to his disappointment, Jack accepted. Jack wouldn't let John be the righteous one by refusing the invite. Heaven cheated. God actually played their pride against them to bring them together. Whatever works.
During that first cup of coffee all hell broke loose. Literally. Lies and deceptions that demons had spent years building fell to the ground in moments, smashed into a million pieces as each man realized the other was not who they thought. Hell was quite upset. It was like Heaven had no regard at all for the years of hard work it took to stand up that delicate, but powerful, deceptive house of cards.
Letting their offenses against the other go in that first conversation over that first cup of coffee wasn't easy. It was a blow to the pride of both men. They each had to consciously decide to drop their offenses, starve their pride, and risk being vulnerable. But, on the other hand, their pride hadn't been working out so well for them lately, so they gave it a go. After a year, they were both enjoying a deep friendship so much more than they had ever enjoyed being right. It was worth it and not nearly as lonely.
How about us? Does God have a friend for us, whom we desperately need, that we're too offended at to ask for coffee? Can we lay down our right to be right and be friends instead? Have you had this experience, on either end? Tell us in the comments and please share if you think this would bless someone else.
http://identityinwholeness.com/wp-content/uploads/2017/11/ThePowerOfDroppingOffense-495x400.jpg
400
495
Dave Wernli
http://identityinwholeness.com/wp-content/uploads/2016/03/new_logo_menu.png
Dave Wernli
2017-11-14 03:00:54
2017-11-13 19:04:15
The Power of Dropping Offenses