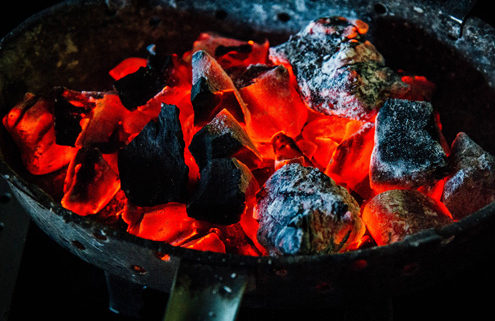 Story time again! We often romanticize the prophets and the heroes of the Bible, making them larger than life. But the Bible says they were people just like us (James 5:17). Flawed people. Unworthy people. Hurting people. Just like us. Just like me. Just like you. Here's a dramatization I hope blesses you that puts some skin on this idea that God calls the people you or I wouldn't have chosen. Even us.
Izzy was having a bad day. It wasn't easy running a household in 8th century BC. He'd just had to fire his "best" servants for covertly fleecing him and his sheep. Then he discovered one of his cows had bloated and died in the field overnight—what a mess. Then it started to rain. He had to walk a mile back to his tent in the pouring rain, slipping often in the mud. He was looking forward to changing robes into his favorite comfy wool robe—it would feel so good on this cold, wet day. 
He finally got back inside his tent, just in time to see his 5-year-old son playing swords with a burning fire brand. "What are you doing?!?" Izzy screamed at his son. When he heard his father yell, the boy started, and dropped the fire brand. Right onto a pile of laundry. Right onto Izzy's favorite comfy wool robe he'd been looking forward to wearing for that whole last, wet mile.
"Are you trying to burn the whole tent down?!? How many times do I have to tell you? Don't play with fire in the tent! What do I always say? What's the worst thing that can happen in a tent?" he demanded of his son as he stamped the fire out.
"A fire," his son responded, in a very small voice. "I'm sorry, daddy!" He started to cry.
"Yes, a fire! And what do you do? Start a fire! And why? So you could play! You burn down our whole tent, everything I've worked so hard for, but, hey, you had fun, so what the heck?!?" Izzy was way out of control, yelling at his son like this, and he knew it. But he didn't care. Shooting off his mouth, swearing and ranting was how he dealt with stress, and this had been a very stressful morning. And besides, they were just words. So what?
His wife came in at that moment. "Oh, sweetheart, what's the matter?" she said as she scooped up the boy and comforted him.
"Where were you? Our son almost burns the tent down, and where were you?!?"
"Making your meal. Your favorite hot lentil soup is ready," she answered Izzy. Then she said to their son, "It's alright now, honey.  But you learned something today, huh?" The boy nodded vigorously. "Now go run along play with something that's not burning, ok?" she laughed.
Her total acceptance and love of him made it all better. He hugged her neck and ran off to find something to play with that wasn't smoking.
"Look at this! Just look at this!" Izzy wailed, holding up his favorite comfy wool robe. It had a hole in it two feet in diameter. "Ruined!! Scrabble!" he swore.
"Had a tough morning?" she asked lovingly. "You look terrible."
"I had to fire freakin' Jonus this morning! And a gal-darn cow bloated in the field last night! Dag-nab-it, do you have any idea how much wealth I've lost today?!? No, you wouldn't…"
"Please don't be hurtful," she asked, ignoring yet another insult. She saw something in this rough, brash man that no one else could. The Lord had shown her years ago that He was going to unlock her husband's heart. Early this morning He had told her today was the day. She had gotten up two hours early to pray for him. She was ready; she couldn't take much more of this.
"Why do I even talk to you?" was the kindest, more correctly, the least cruel, thing he could find to say. He hated himself for it. While they were talking he had changed into something dry. "Stupid woman. Stupid kid. Stupid cow.  Stupid servants. Stupid rain," he complained at the air as he wandered off to eat his lentil soup. It would probably be cold by now.
He hated his wife for the same reason he loved her. Everything could be a mess, their whole life upside-down, and she'd find something to laugh about. He hated it. It was really, really annoying when you were trying to have a bad day. And yet he loved it. It warmed him inside. But he couldn't tell her.
Not for lack of trying, though. His words were just dark and heavy and vile and… and… well, just unclean. But so what? They were just words. He'd told himself that enough times he almost believed it. Almost. At least he pretended he believed it.
"Isaiah." Someone said his real name. And it was the freakiest voice he had ever heard. It sounded like a giant water fall making words. He spun around and the tent was gone, or it wasn't, he didn't know, care, or even think about it. All he could do was focus, fixated, on what he saw in front of him. Oh snap I am undone, was his only thought.
In front of him he saw something language does not have words to describe. He saw the Lord, high and lifted up on a throne, with the train of his robe filling the temple. The Lord was blazing white with every color all at once, yet every color individually distinguishable and always changing. When the colors shined on him, a different part of him sprang to life with each different color and pattern and shade and hue. The colors were living fabric, and each one reflecting a different attribute of the character of God. The patterns and colors were never the same, they were constantly changing. Yet the Lord Himself was totally constant—as if He wasn't changing per se but just displaying a different part of himself at each moment.
There were angels flying about. Each time the colors changed, they would sing to each other, "Holy, Holy, Holy, is the Lord God Almighty! The whole earth is full of his glory!" As if they'd just seen another attribute of God they'd never known about before. As if they'd been staring at him for all eternity, and every moment they were still seeing new parts of his character that blew their minds. And all they could do was respond, "Holy, Holy, Holy,…" At the sound of their voices, the doorposts and thresholds shook and the whole temple was filled with smoke.
Isaiah took in all this in a moment. Sound involuntarily came from his mouth. "Woe to me!" he cried aloud in terror. "I am undone! I am ruined! I am a man of unclean lips, and I live among a people of unclean lips, and my eyes have seen the King, the Lord Almighty!" They weren't just words. They mattered. How could he possibly have thought any differently. Oh, no, the pain he'd caused by his words to the precious ones he loved. He saw himself for the first time.
Quick as lightening, one of the angels flew to the altar, grabbed a burning coal with tongs, flew over to Isaiah, and touched his mouth with it. He screamed and quickly touched the place where he was sure his lips had just burned off. Only his mouth was fine. In fact, it felt… well, free! As if, for the first time, he didn't have to say something ugly. He could choose, for the first time, to speak either death or life.
"See, this has touched your lips," the angel told him, holding up the burning coal with the tongs. "Your guilt is taken away and your sin atoned for." And then the freakiest thing happened. The angel smiled at Isaiah.
At that moment the Lord spoke from his throne. "Whom shall I send? Who will go for us?"
Before Isaiah knew what he was doing, before his head could catch up, he answered from his heart, "Here I am! Send me!"
The Lord smiled and nodded. "Very well then. Go to this people, and tell them…"
And the Lord gave Isaiah a message to speak to the people of Judah in His name. It was the first of many prophetic messages Isaiah was given to speak for God.
The vision faded but not the change. He was back in his tent, eating his lentil soup that was still hot. How had he gotten to the table with the spoon in his hand? He looked very disoriented. His wife and son were looking at him strangely. "Izzy? Are you all right?" she asked. "You zoned out for a moment there. You look like you've been to another planet. 
"You have no idea," was he all he could say, and then he started to cry. Something he had never done in front of them before. He felt pain, but not just because he was hurting or feeling guilty like always. This was different. He felt their pain; the pain he caused. And he was sorry for their sake, not for his.
He was sobbing now, and couldn't stop. The rainstorm was inside the tent, flowing down his cheeks. He expressed to his wife and his son things bottled up inside for years that he wanted to say but couldn't before now. He told them about the vision and they believed him. Then he did something he hadn't done in way too long. He laughed. And they laughed together. And played. And sang. And lived. Something tangible changed in the tent that day and never changed back.
For decades following, the Lord gave Isaiah some of the most powerful prophetic words He's ever given a prophet. They are still favorites today and bring healing to wounded people thousands of years later. And it all started with an experience with the Living God. An experience that changed everything.
– Based on Isaiah 6:1-13.
How about you? Have you been undone? I was undone by God's love a long time ago. One can never go back afterwards. And who would want to? Tell us your story in the comments or shoot us an email. And please share this on Facebook if it blessed you.
http://identityinwholeness.com/wp-content/uploads/2017/08/AndThenGodShowedUp-495x400.jpg
400
495
Dave Wernli
http://identityinwholeness.com/wp-content/uploads/2016/03/new_logo_menu.png
Dave Wernli
2017-08-22 03:00:25
2017-08-21 21:35:42
…And Then God Showed Up