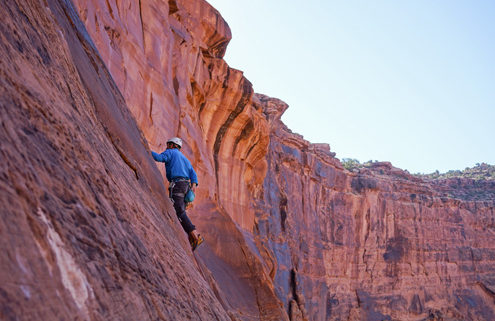 What?!? Dave, have you completely lost your mind? I know that's what most of us (including me) think when reading that title. But it really is true. The suffering we pass through really is a blessing.
Consider it pure joy, my brothers, whenever you face trials of many kinds, because you know that the testing of your faith develops perseverance. Perseverance must finish its work so that you may be mature and complete, not lacking anything. (James 1:2-4)
I don't know about you, but my first reaction to suffering is to certainly consider it something – but not pure joy. What was James smoking? I want some.
We rejoice in our sufferings, because we know that suffering produces perseverance; perseverance, character; and character, hope. And hope does not disappoint us. (Romans 5:3b-5a)
I think Laura Story has it right in her song Raindrops – suffering really is God's blessing in disguise.
There are two reasons we suffer. One we bring on ourselves, and the other God brings on us. Either way, it's a blessing.
The suffering we bring on ourselves is the logical consequences of our unrighteous actions. I've heard it said that God doesn't punish sin as much as he allows it to punish itself. He removes his hand of protection and lets us taste just a bit of the stew we've cooked. Just enough to bring us to repentance. This is a blessing – God doesn't leave us in our sin, but he uses its logical consequences to free us from it. He brings us to confession and repentance, getting our attention through suffering the logical consequences.
If we keep a short tab with God and repent quickly when he allows stuff to catch up with us, we avoid longer-term consequences. The suffering is a blessing – it keeps us from something worse.
Endure hardship as discipline; God is treating you as sons. (Hebrews 12:7a)
The second type of suffering is the type God brings on us for his glory and our benefit. Remember the debate God and Satan had over Job? Who brought Job into that conversation? God did! Twice! (See Job 1:8 and Job 2:3.) "Have you considered my servant Job?"
Often, God brings difficult things, suffering, into our lives to give us something we can endure. Not only to build character into our lives, to make us more like him, but also so he has something he can reward us for. That's a tough pill to swallow, especially when you've suddenly lost a loved one or you're going through some other tragedy in your life. I don't want to make light of that or be flip about it. It's not easy. It hurts. It hurts bad.
But God is in there. I went through a tragedy in my life and was on my face for a year-and-a-half crying out the Lord. He met me in that place, and in the very difficult years that followed. My story is a testimony to his faithfulness and presence through great pain.
A lot of times the suffering doesn't seem fair. And it's not. The suffering is only for a season, but the rewards of bearing up under it well and with faith are forever. Totally not fair, but not fair in our favor.
Worship (corporate and private) is the greatest comfort to me in my times of suffering.  How about you? Has the Lord been faithful? Can we stand with you in something while you're waiting? Tell us in the comments.
http://identityinwholeness.com/wp-content/uploads/2017/06/SufferingIsABlessing-495x400.jpg
400
495
Dave Wernli
http://identityinwholeness.com/wp-content/uploads/2016/03/new_logo_menu.png
Dave Wernli
2017-06-26 03:00:02
2017-06-25 19:43:39
Suffering Is A Blessing