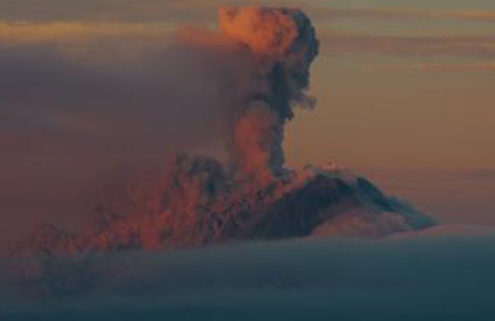 Being a math guy, I was rather upset about this. Most subjects are similar to mathematics. The teacher gives a lecture, and then you go practice what you were just taught in the homework. Safe. Predictable. Totally not how God works. God teaches life like a physics class.
In physics, you go into the lab first, blow something up, and then get the lecture explaining why it blew up. The lecture is very similar to the mathematics lecture (although in unrecognizably different notation). But because you've had the experience, the lecture makes a lot more sense and you learn the material at a deeper level.
I wish God would prep me each day for what I'm going to face that day. Give me the lecture. Then, when the thing happens, I'll handle the situation right. The problem with that, from God's point of view, is I could handle it without him. And out of his great love for us, he just won't have that. He wants to do it with us.
So every day life is a lab. Something unexpected happens, things don't work out. We don't "get it right." We mess up. Then he gives us the instruction. And we have to walk through it with him to keep from totally burning down the lab. He teaches us as we go along because he wants to live it with us as we go along.
So what happens? I "get it right" a lot less than if God would just do it my way. And I care about "getting it right." He is me healing me from Performance Orientation, the (often unconscious) belief that we have to earn love by performing. This is epidemic in the church today. We struggle and strive to earn by hard work what we already have by inheritance.
But fortunately for me, God is less concerned about my "getting it right" than I am. He's more about the process, less about the goal. Being God, he can snap his fingers and accomplish the goal anytime he wants. But he knows we need the process.
This isn't very efficient. But God's not into efficiency. Being an engineer, that first time I heard that, I was convinced it was heresy! I am all about efficiency. But it's true – God's not. God's about the process. He doesn't care if it takes longer to get us where he wants us; he's got all the time in the world.
Now if not "getting it right" means falling into sin, God cares a lot more about it. And he has given us a textbook that, if we read and follow it, will spare us a lot of smoke alarms going off in the lab. But if we're determined not to, God will let us blow up the lab, and then come back and show us why that was a really bad idea.
However, a lot of "getting it right" isn't outright rebellious sin. Making a mistake is not sin. Here's a free hint: If you're afraid of making a mistake, or get angry when others do, you have Performance Orientation. God wants to heal you. God would much rather have us try, fail, and learn, than never try. See the parable of the talents in Matthew 25:14-30.
Does this resonate? Please share it on social media (click the buttons below). And tell us your story in the comments, or shoot us an email. What "failed labs" in your life has God used most powerfully? Your story is very encouraging to others. Tell it here.
http://identityinwholeness.com/wp-content/uploads/2017/03/GodsPhysicsClass-495x400.jpg
400
495
Dave Wernli
http://identityinwholeness.com/wp-content/uploads/2016/03/new_logo_menu.png
Dave Wernli
2017-03-27 03:00:49
2017-04-17 04:57:01
God Teaches Life Like A Physics Class